AUDITIONS FOR FIRST PRODUCTION OF OUR 
SUFFRAGIST SEASON  
"VOICES OF AFRICAN-AMERICAN SUFFRAGISTS 1850-1920: A STAGED READING"
 Postponed until further notice. 
More Details to follow soon.
Phone (after noon) Dr. Aileen Hendricks for more information or just come.
225-362-2847
Louisiana Voices Of Women Theatre Company
MEETUP – WRITING GROUP
LA VOW THEATRE COMPANY
3rd TUESDAYS, Every Month at 7:00 p.m.
Meeting at the GOODWOOD MAIN LIBRARY,
7711 GOODWOOD BLVD., BATON ROUGE, LA 70806
 COME JOIN US – AND BRING YOUR FRIENDS!!!!!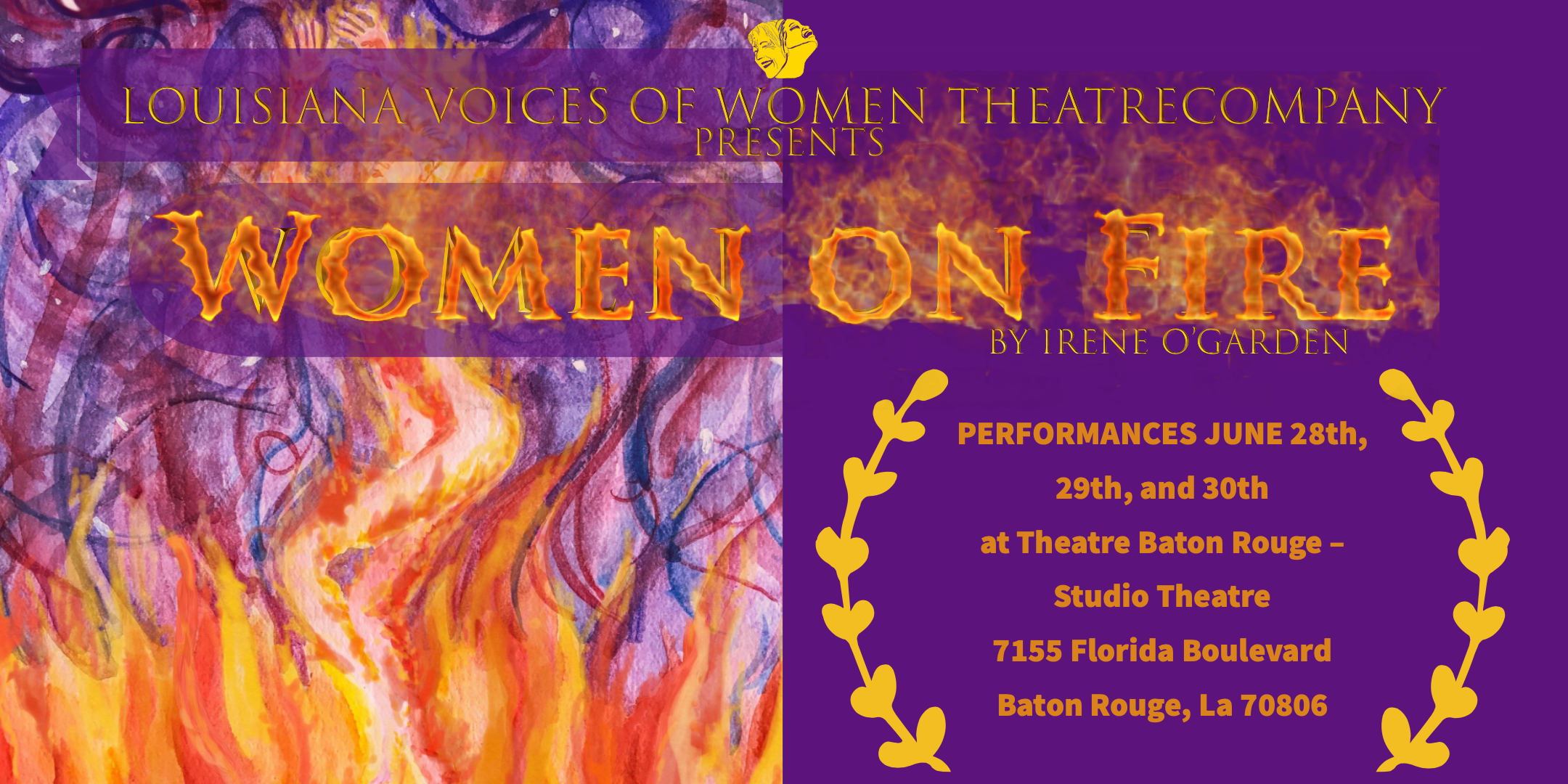 Women on Fire
BY IRENE O'GARDEN
Cast
Trude – Abrielle DeCuir
Fern – Christina Normand
Eileen – Crystal Brown
Clover – Julie Richard
Lydia – Abrielle DeCuir
Miriam – Julie Richard
Elizabeth – Abrielle De Cuir
Rita – Christina Normand
Zatz – Kaylan Landreneaux
Audrey – Crystal Brown
Jordy – Kaylan Landreneaux
This evening of twelve emotionally charged monologues starred Judith Ivey Off Broadway, where its run was extended twice. From ad exec to Midwest mom to care-giver to construction worker, each character is on fire in her own way – with passion, fear, self-discovery, even shopping! Exploring the breadth of women's issues with humor and wisdom, the monologues offer excellent roles for one or more mature actresses. Women on Fire earned the highest rating for audience satisfaction from the Wall Street Journal/Zagat Theatre Survey. "Bewitching … astounding … heartbreaking." – The New York Times " "Heartwarming, riveting drama." – NYTheatre.com "Fresh, spirited … plumbing the secret depths of ordinary women." – Backstage. "Hot pick." – New York Newsday . "A rare and exquisite evening… Lyrical, touching substantial and ultimately profound… Cancel all other appointments and treat yourself to this extraordinary evening of sublime writing." –Southampton Press "Passionate and insightful… Each character is memorable." – Riverhead Independent
More Production Information and Cast Bios HERE
"
Louisiana Voices of Women brings passion, rage, hope to 'Women on Fire' production
" – Robin Miller of The Advocate June 22, 2019
Read the full article Here!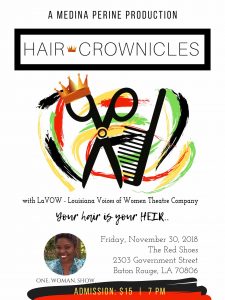 Your hair is your heir. It is a play produced by Medina Perine and LaVOW Theatre. Come see it at the Red Shoes, 2303 Government St. in Baton Rouge, LA 70806. The play starts at 7:00 pm November 30, 2018